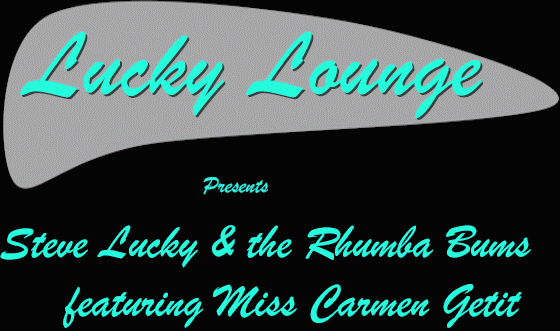 DISCOGRAPHIES
1) Steve Lucky & the Rhumba Bums featuring Miss Carmen Getit appear on:
"Come Out Swingin'!", Steve Lucky & the Rhumba Bums
Rumpus Records RR-65902

JAZZIZ on Disc
various artists, 1998, JazzIz Magazine Production

Hipsters, Zoots & Wingtips: Volumes I & III
various artists, Hip-O/MCA/Universal HIPD-40129, US & Canada

Swing This, Baby! various artists
Slimstyle Records/Beyond Music/BMG 63985-78000-2

San Francisco Jazz Festival Volume III
various artists, Jazz In The City Records JITCR003

Ultra Swing Nouveau
various artists, DM Records DMR79464

Swing Time!
various artists, jazzfm Records, London England

Swing Sucks
various artists, Liberation Records L-37814

Swing On The Wild Side
various artists, Wolverine Records, Germany

Got Swing?
various, Wanna Dance Productions WDR73001

The HiBall Lounge Sessions, Volume 1
various artists, HiBall Records 1001 San Francisco

Swing 123
various, Universal Music Special Markets




2) Steve Lucky also appears on:

What the Hell Is Going On, Elvin Bishop
2004 Release

Long As I Have You, John Hammond
Virgin Records Dpro-12793

That's Big!, Little Charlie & the Nightcats
Alligator Records (2002)

You Can't Do That, Dave Myers
BlackTop Records BT-1142/Alligator

Sista Monica,Sista Monica
Mo Muscle Records MOR042756

Golden State Blues, Mark Hummel
Electro-Fi Records E-FI 3375

Sittin' & Waitin', Rusty Zinn, Kim Wilson special guest
BlackTop Records BT-1134/Alligator

Married to the Blues, Mark Hummel
Flying Fish Records FF 70647

Low Down to Uptown,Mark Hummel
Tone-Cool Records/Rounder, Boston, MA

Boogie King, Shane Dwight Blues Band

West Coast Soul Stew, Red Archibald & the Internationals
Blue-Tone Records BTR 19972-2 San Francisco, CA

Big Guitar, Anthony Paule
Blue Dot Records BDR CD101, San Francisco, CA

Analog Travelog, Rhythm Town Jive
Globe Records GLO-013 Mill Valley, CA

Swing Is Dead, Lee Press-On & the Nails
Irascible Records

On The Main Stem, Rhythm Town Jive
Globe Records GLO-021, Mill Valley, CA

Bleedin' Heart, Paris Slim
Globe Records GLO-018, Mill Valley, CA

Hot Town Jubilee
Hot Town Jubilee

Smack Dab in the Middle, Steve Lucky
Way Cool Records 01713 CD

Gettin' Around, Red & the Red Hots
Red Young Productions

West Coast Playboys, Andy Santana

Ann Arbor Music Project, with the Blue Front Persuaders
Various artists AAMP 982

Dave Barrett's Harmonica Masterclass

3) Miss Carmen Getit also appears on:

Ladies Man, Pinetop Perkins
*2005 W.C. Handy Award-Winner & 2005 Grammy-Nominee
MC Records, August 2004 Release
with Willie "Big Eyes" Smith, Bob Stroger
plus guests Elvin Bishop, Ruth Brown, Susan Tedeschi, Ann Rabson,
Odetta, Angela Strehli, Deborah Coleman, Madeleine Peyroux, Marcia Ball.