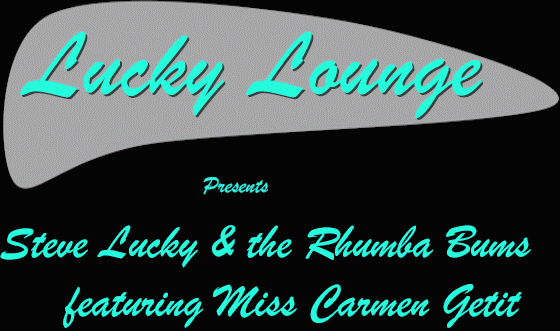 The Rhumba Bums in T.V., Film, Books


You may have Seen the Rhumba Bums here:
CNN "Showbiz Today" with Jim Moret

"Be Cool", MGM's sequel to "Get Shorty"

CBS "Good Morning America"

FOX/The Music Channel "Locals Only"

PBS "CD Highway"

The Bravo! Network "This Joint Is Jumpin'!"
companion DVD available



You may have Heard the Rhumba Bums here:
ABC TV's "General Hospital"

FOX/Columbia Tri-Star's "The Tick" TV show

SHOWTIME's "Chris Isaak Show"

Nationwide in Levi-Strauss stores

In-Flight on United Airlines

ABC TV's "Bachelorette"

Apple's Final Cut Pro Software

Nissan TV Commercial

The Learning Company's (formerly S.S.I.) computer games

ABC TV's "Port Charles"




You may have Read about the Rhumba Bums in these Books:
Swing, by Scott Yanow
Miller Freeman "Third Ear" Series

Swing!: The New Retro Renaissance, by V Vale
RE/Search Publications

The Swing Book, by Degen Pener
Back Bay Books: Little, Brown and Company

Music Hound Swing!: The Essential Album Guide, by Steve Knopper
Visible Ink Press